Prestigious participants
---
In 2018, academy celebrated its 30 years old. For 30 years, 350 to 400 course participants from around the world, professional dancers from Russia and Japan, pre-professional dancers from the Paris Opera Ballet or La Scala Ballet schools and dance enthusiasts have been gathering in Biarritz during one of the first weeks of August to share a unique experience.
A multitude of teachers among the most renowned of the world provide them with high-quality training in classical dance, addressing the main dance teaching methods: the French school with the Paris Opera Ballet, the Russian school with the Bolshoi, the Kirov and the Vaganova Academy, the Cuban school…
The diversity of teachers is the brand image of the Academy course to which almost all these masters devote their talents.
30 summers of Dance
---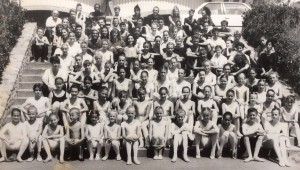 Académie Internationale de Danse de Biarritz, 1988 > 2018
30 summers of dance in BIARRITZ
Thanks to the city of Biarritz 
Thanks to the teachers :
Daniel AGESILAS , Jean ALAVI, Monique ARABIAN, Urtzi ARANBURU, Carole ARBO, Colette ARMAND, Cyril ATANASSOFF, Wayne BARBASTE, Jean-Guillaume BART, Bertrand BELEM, Rudy BRYANS, Eric CAMILLO, Bruno CAUHAPE, Nicole CAVALLIN, Lienz CHANG, Giuseppe CHIAVARO, Isabelle CIARAVOLA , Isabelle CIVIDINO, Sylvie CLAVIER, Bruno COLLINET, Dominique CORDEMANS, Marie-Claude DUBUS, Shirley  ESSEBOOM, Ghislaine FRANCHETTI, Anne FRESNOIS, Jacqueline FYNNAERT, Fanny GAIDA, Hélène  GILLET, Marie-Agnès GILLOT, Juan GIULIANO, Andrej GLEGOLSKY, Jennifer GOUBE, Raza HAMMADI, Isabelle HERNANDEZ, Gil ISOART, Dominique KHALFOUNI, Andrey KLEMM, Margarita KULLIK, Atilio LABIS, Sarah LAMB, Corinne LANSELLE, Béatrice LEGENDRE, Chantal LEFEVRE, Eva LOPEZ, Angelito LOZANO, Thierry MALANDAIN, Rick ODUMS, Claire-Marie OSTA, Carole PASTOREL, Carole PHILIPP, Azari PLISSETSKI, Anne-Marie PORRAS, Éric QUILLERÉ, Jacqueline RAYET, Serge RICCI, Anna SANCHEZ, Sophie SARROTE, Véronique SCHENKER FARINA, Bruce TAYLOR, Patrice VALERO, Nathalie VERSPECHT, Noëlle WINKELMANN, Gérard WILK, Ander ZABALA.
To the musicians :
Armand AMAR, Jean-Claude BARBIER, Marcel BELLUS, Denise BELLON, Laurent CHOUKROUN, Sylvain DURAND, Pietro GALLI, Fabrice GUIGNARD, François QUEYREUR, Michèle MEROU, Jean-Luc PACAUD, Franck PRÉVOST, Alberto RIBERA SAGARDIA, Pascal SEVAJOLS. 
And to ones of ours prestigious course participants during this three decades :
Amandine ALBISSON (Danseuse Etoile), François ALU (Premier Danseur), Victoire ANQUETIL (Quadrille), Nathalie AUBIN (Sujet), Marion BARBEAU (Sujet), Jeremy BELINGARD (Danseur Etoile), Adrien BODET (Coryphée), Camille BON (Coryphée), Tess BUCK (Poznan Ballet) Alice CATONNET (Sujet), Simon CATONNET (Ballet du Capitole) Yann CHAILLOUX (Sujet), Cyril CHOKROUN (Quadrille), Ambre CHIARCOSO (Quadrille), Isabelle CIAVAROLA (Danseuse étoile), Antonio CONFORTI (Quadrille), Mathieu CONTAT (Coryphée), Emilie COZETTE (Danseuse étoile), Julien COZETTE (Coryphée), Sarah-Kora DAYANOVA (Sujet), Celia DROUY (Quadrille), Aurélie DUPONT (Danseuse étoile et Directrice de l'Opéra national de Paris), Benjamine DUPONT, Lucie FENWICK (Quadrille), Clara FORGUES (Malandain Ballet Biarritz), Georgio FOURES (Quadrille), Mathilde FROUSTEY (Etoile à San Francisco), Miho FUJII (Quadrille), Marine GANIO (Sujet), Mathieu GANIO (Danseur étoile), Michaël GARCIA (Malandain Ballet Biarritz), Dorothée GILBERT (Danseuse étoile), Sylvain GILLET, Marie-Agnès GILLOT (Danseuse étoile), Alexandre HAMMOUDI (Soliste American Ballet), Mathias HEYMANN (Danseur étoile), Aurélien HOUETTE (Sujet), Axel IBOT (Sujet), Hugo LAYER (Malandain Ballet Biarritz), Pablo LEGASA (Premier danseur), Manuel LEGRIS (Danseur étoile), Guillaume LILLO (Malandain Ballet Biarritz), Fábio LOPEZ (Chorégraphe Cie Illicite), Germain LOUVET (Danseur étoile), Allister MADIN (Sujet), Sabrina MALLEM (Sujet), Hugo MARCHAND (Danseur étoile), Paul MARQUE (Sujet), Florent MELAC (Coryphée), Antonin MONIE (Quadrille), Samuel MUREZ (Quadrille), Aubane PHILBERT (Coryphée), Elisabeth PLATEL (Danseuse étoile et directrice de l'Ecole de l'Opéra national de Paris), Elena PRIS ( Staasballett Berlin), Lore PRYSZO (soliste Opéra de Lyon) Fabien REVILLION (Sujet), Jeremy LOUP QUER (Sujet), Eric QUILLERÉ (directeur Ballet de l'Opéra national de Bordeaux), Silvia SAINT-MARTIN (Sujet), Beryl de SAINT-SAUVEUR, Emmanuel THIBAULT (Premier danseur), Carl VANGODSENHOVEN (Leipziger Ballett), Lydie VAREILHES (Sujet), Xenia WIEST (Staasballett Berlin), Simon YOSHIDA …
2023 Curriculum
---
2023 CURRICULUM
Exclusively for pre-professional or professional dancers, 17 years of age or older:
Option available to take a class with the Malandain Ballet Biarritz company at the Gare du Midi Theatre's ballet studios.
Candidate selection will be based on applications; limited number of slots. If you are interested, you can send your CV and video to:  Carole Philipp contact@biarritz-academie-danse.com, Phone: +33(0)6 45 99 42 01
*****
To register, each applicant must complete the online registration form on HelloAsso in the "registration" section of biarritz-academie-danse.com/inscription/, and pay online by providing all the requested documents.
For your information, HelloAsso gives the option of making a voluntary contribution to this non-profit community-oriented company. It provides its payment system free of charge, without fees or commissions, to non-profit organisations. Voluntary contributions are their only source of income.
For any cash payment, transfer from abroad or internship won during a contest, please contact us by email at: contact@biarritz-academie-danse.com 
Please carefully read the internal rules regarding the terms for refunds.
CLASS LEVELS
There are no classes for beginners. A minimum of two years of dance is required.
Elementary: 10/12 years old
Standard: 12/14 years old
Intermediate: 12/14 years old, students enrolled in an intensive curriculum or prestigious schools
Advanced: 14/16 years old
Superior: over 16 years old, pre-professional and professional dancers
Adage: Adage courses are exclusively reserved for the girls' superior level, and the boys' advanced and superior levels. Management reserves the right to limit access to courses for both students and individuals auditing a class as well as to redirect students to a more suitable level.
Boys' class: over 14 years old
Pointe class: standard/intermediate and intermediate/advanced levels
Repertoire class: exclusively reserved for superior level and for girls (on pointes).
Choreographic workshops:
Starting at the standard level, a workshop class is offered.
Standard and intermediate levels: Malandain Junior workshop
Advanced/Superior Level: Malandain, Kylian, and Johan Inger workshops
Adult Classes: all levels, except beginners
ELECTIVE COURSE CURRICULUM
The elementary level has two classical ballet classes and one floor-barre class daily.
The standard and intermediate levels have two ballet classes, one specific pointes class, a Malandain choreographic workshop, and one floor-barre class daily.
The advanced level has two classical ballet classes, one pointes class or boys' class, two choreographic workshops, and one floor-barre class daily.
The superior level has one classical ballet class, one repertoire class or boys' class, one adage class, two choreographic workshops, and one floor-barre class daily.
The adult course has one class per day with the possibility of adding a floor-barre class.